In Jersey City, Newark, Trenton, and Camden, like many urban areas across the country, school aged children are adversely affected by issues of violence, substance abuse, crime, academic deficiency and lack of educational support systems and recreational outlets.

Not only are such conditions physically dangerous, but they affect the self esteem, sense of security and the developmental process.

This, in turn, affects a child's ability to learn, perform well academically and develop character. Kings Knight Chess Club was formed nearly 15 years ago by Bobby Stewart of Jersey City, New Jersey. Our premier focus was to utilize chess to develop keen responsibility levels among youth and to enhance their ability to reason. Youth have been having a difficult time focusing on their studies for the last two to three decades. Through the game of chess, we at Kings Knight have stimulated their thought process and enhanced their ability to reason, thus helping young people get motivated to achieve in and outside the classroom. Our program has served as a stimulant to help assist young people in their ability to learn, as approximately 80% of our participants have improved in their classroom performance. Here at Kings Knight we provide opportunities to visit museums as well as an array of in-house guest speakers from novelists to professional actors and athletes for our young people to interact.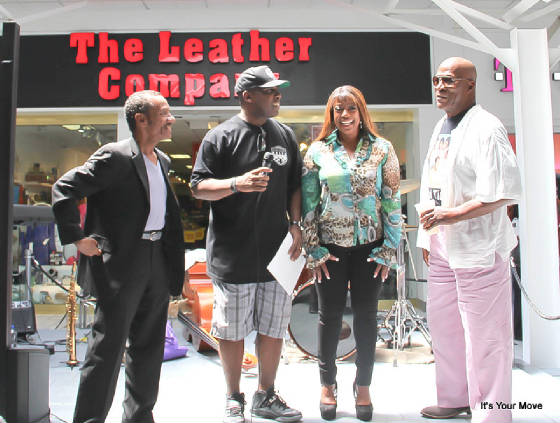 Good Times' Ralph Carter, Kings Knight Chess Club Founder Bobby Stewart, Bern Nadette Stanis and John Amos share the stage during "Chess and Jazz Fest" at Jersey City's Hudson Mall
The Kings Knight Chess Club, in cooperation with It's Your Move, LLC, a nonprofit organization, offers children the truly unique opportunity to increase their mental ability and have fun at the same time, learning the game of Chess.
The Kings Knight Chess Club (K.K.C.C.) has established scholastic chess programs at the:

--Jersey City Community Charter School,

--Jersey City Police Department - Safe Haven Program,

--New Jersey City University Pre-College Program,

--New Jersey City University Kids Saturday Semester,

--It Takes A Village Youth Program,

--PS#15 School,

--Liberty Charter School, and

--And More To Come. Tel: 201-936-9997

E-mail: kingsknightchess@aol.com

Webmaster E-mail: amerfocus@aol.com

The Kings Knight Chess Club, founded by Bobby Stewart, teaches the game of Chess to young people and the numbers of interested youth are growing.

Our Chess Club goal is to establish Chess centers to educate and motivate interested youth through Chess, and to promote positive thinking as a competitive activity by creating an environment in which cognitive skills are rewarded.

CHESS Makes Kids Smarter.

As a 501(c)3 non-profit organization, the Kings Knight Chess Club depends on Tax-Deductible Donations from the Public, Grants, related Funding, and Contributions on all levels, which empowers this effort to continue to reach out to as many young people as possible and to help us defray the costs of equipment, awards and needed materials.

If you would like to support this educational organization, to get involved with Kings Knight Chess Club Incorporated, to get involved with young people, and to get involved in Chess, please feel free to contact us by clicking on the e-mail link below or filling out and submitting the e-contact form above.

Thank you, in advance, for your interest in and support of the Kings Knight Chess Club, Incorporated

Sincerely,

Bobby Stewart,
President